Wireless Local Area Networking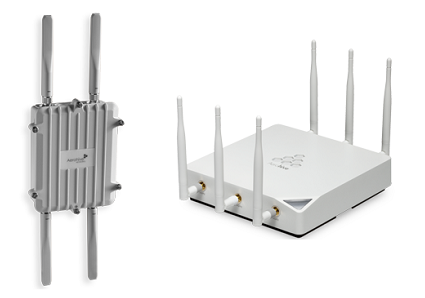 The Wireless Local Area Network (WLAN)
A WLAN provides wireless network communication over short distances using radio signals instead of traditional network cabling.
A wireless local area network (WLAN) extends an existing wired local area network to devices not connected to the LAN. We create WLANs by attaching a device called the wireless access point (AP) to the wired local network. Client devices communicate with the wireless access point using a wireless network adapter like a traditional Ethernet adapter. The difference is that the data/voice traffic travels through the air rather than the wire.
Wireless Networking Data Transfer Speeds
Wireless Local Area Networks (WLANs) have data transfer speeds ranging from 1 to 54Mbps. In addition, some manufacturers offer proprietary 108Mbps solutions. The 802.11n wireless networking standard can reach 300 to 600Mbps.
Wireless Networking Security
You should strictly implement security precautions in a WLAN. This is because everybody nearby can share the wireless network signal as it is broadcast. This is obviously to ensure only authorized users can access your data or voice network. We focus on the important area of network security hardware and policies in our implementations of WLAN technology.
Wireless networking for the office, factory and campus
A wireless local area network signal can be broadcast to cover a small office to a large campus. Most commonly, a WLAN access point provides access within a radius of 65 to 300 feet. An enterprise class wireless local area network employs many individual WAP's to broadcast the network signal to a wide area. These wireless network access points have more features than home or small office WLAN equipment. This includes features such as better security, authentication, remote management, and tools to help integrate with existing networks. These wireless access points have a wider range than home or small office equipment, and are designed to work together to cover a much larger area. (We can also help you get better cell phone reception on your campus or office. Read more here…)
eUS represents several Wireless Access Point manufactures, including:
Aerohive
Aruba
Cisco
Hewlett Packard
Meru
Aerohive is an excellent example of the State-of-the-Art Wireless Access Point products we can provide and implement. Our installation of Aerohive helps simplify networking so it reduces the cost and complexity of distributed enterprise deployments. This is accomplished with the use of cloud-enabled networking solutions. These solutions, based on our unique distributed intelligence architecture, include enterprise-class Wi-Fi access points and revolutionary, easy-to-deploy routers.
802.11n Enterprise Wireless LAN Access Points:
Aerohive's 802.11n enterprise wireless LAN access points are an innovative class of wireless infrastructure equipment. These Enterprise WLAN products feature powerful cooperative control technology. This provides the benefits of a controller-based wireless LAN solution, without requiring a controller or an overlay network.
Aerohive Access Points are organized into groups that share control information between them. This enables functions like secure and fast L2/L3 roaming, coordinated RF management, security, QoS, and mesh networking. This sharing capability enables a next-generation wireless LAN architecture that is easy to deploy and expand, as well as reliable, scaleable, high-performing, and optimal for voice over WLAN – all without a controller.
HiveManager Network Management:
HiveManager is an out-of-band Network Management System (NMS) for simple policy configuration. This is helpful because it facilitates firmware upgrades, and monitoring of up to thousands of Aerohive 802.11n access points and routers. A revolutionary new user-interface makes it easy and intuitive to create and deploy unified LAN and WLAN policies across your entire network.
HiveManager offers real-time topology, performance, and client information to simplify troubleshooting, capacity planning, and security remediation of both WLANs and remote office networks. HiveManager also enables customer access policies based on identity and device type. Because it is not essential to the flow of traffic, losing connectivity to HiveManager will not affect any control or data forwarding features of your Aerohive WLAN or remote office.
Cloud Services Platform:
The Aerohive Cloud Services Platform is a globally distributed, cloud-based infrastructure that is home to Aerohive developed Software-as-a-Service (SaaS) applications. The Cloud Services Platform also leverages our patent-pending Cloud Proxy feature. This allows us to seamlessly integrate a set of partner Cloud applications to create robust solutions for Aerohive customers. This applies to equipment that is provisioned through Aerohive¹s own HiveManager Online SaaS.
Aerohive Applications for Education and Enterprise:
Aerohive applications add features, functionality, and value to the complete Aerohive networking solution. These powerful applications can help school districts monitor and track wireless clients as well as allow the enterprise to provide sophisticated and secure guest access.
Routers:
Aerohive's innovative new routers combine 802.11n performance, wired/wireless connectivity and enterprise grade security via the cloud.
Furthermore, Aerohive allows you to provision the routers for maximum convenience and cost-effectiveness. Organizations may choose to purchase routers outright or via the innovative Network-as-a-Service subscription offering. This subscription includes the router itself and HiveManager Online, for the ultimate in simplicity and flexibility. Routers require no end-user intervention, but rather "phone home" for configuration details pushed from a private or public cloud. The result is a unique, zero-touch branch office network deployed by plugging in the power cord. Aerohive finally makes it possible to centrally activate thousands of remote users without remote expertise!
eUS has delivered these capabilities to countless enterprises and has unsurpassed experience in successful installations of enterprise messaging solutions. From retail chains to colleges, we help our customers keep their people in better touch with each other and with their own customers.