Security & Disaster Recovery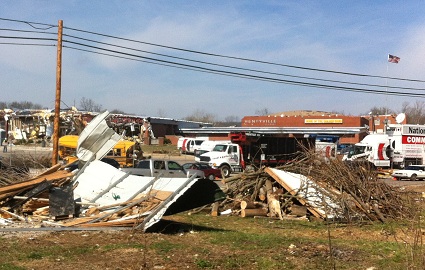 Weather disruptions
On any given day the weather or other natural disasters can present your business or organization with disruptions. It takes planning to keep your business systems up and running during minor disruptions such as power outages from things like thunder storms, snow or ice storms. It can take other types of disaster recovery planning to keep systems up or get them back up after an event like a tornado, flood, fire or earthquake.
Hacking prevention
In every moment of any given day, a global force of computer hackers are trying to penetrate networks, servers, desktop computers and handheld networked devices. The work of preventing hacker attacks on your systems and networks is literally never-ending. The methods to prevent computer hacking involve protecting your data and applications with both hardware-software measures as well as data security policies and practices. We can help you develop your own Cyber Security Framework. This process will result in documented steps and expectations regarding all aspects of information handling. The practices described in the resulting documentation will help guide all stakeholders to the proper methods and practices for data protection.
Certified Ethical Hacker For Data Forensics
A Certified Ethical Hacker is one who is trained in the methods used by malicious hackers to gain unauthorized access to your network resources. We can provide this service to you as part of an overall threat management project.
Data Security & Disaster Recovery Are Part of Threat Management
Threat management involves proactive performance & intrusion monitoring implemented as part of a comprehensive security and fault tolerance regimen. It extends then to the steps that should be taken in the event of a physical disruption (i.e. natural disaster), a system failure or intrusion to avoid downtime or at worst, recover capabilities as soon as possible.
We can help with the Global Plan or Technology Modules
Whether your organization needs a global disaster plan or you need technology specialists to help implement certain modules of that overall plan, we are an excellent choice! We can help you with these specific areas:
Voice Communications
Data Center operations
Workstations and virtual desktops
Security measures
Networks and network resources
Line of business applications and data
It is part of our philosophy to give you exactly what is necessary to safeguard your infrastructure, not just sell you a product. With that in mind, we have teamed up with the best vendors in the industry. To view a list of our partners visit our Partners Page.