Video Conferencing | Telepresence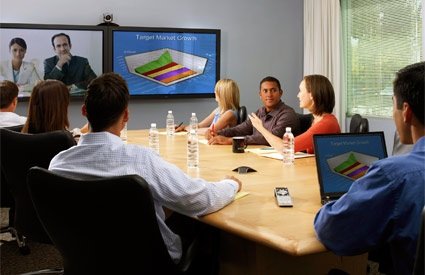 Eliminate Distance With Telepresence
With enterprises expanding across the country, your employees may not always be in the same place at the same time. eUS offers various options in enterprise telepresence technology, providing you with video conferencing solutions that can help your team stay in contact from wherever they are. Telepresence technology offers high-quality video and sound with intuitive controls and no necessary IT support. Launching an interactive telepresence meeting becomes as simple as making a phone call.
Enterprise Video Conferencing
Video Conferencing/Telepresence technology is cost effective and will increase the enterprise productivity and communication of your executives and employees. Contact us to learn more about this affordable and increasingly popular option.
Over our 20 year history Enterprise US telepresence solutions have helped reinvent various manufacturers, healthcare providers, retail chains, educational institutions and many others. Collaboration using telepresence allows enterprises to create a more efficient communication experience, reduce time to market for new products or services, improve customer satisfaction, increase revenue and reduce costs. Consequently, the enterprise organization must be able to facilitate effective communications between nationally or globally distributed locations, account teams, partners, educators and suppliers. Telepresence provides a breakthrough technology for remote collaboration that allows distributed participants to interact with colleagues just as they do at in-person meetings. This level of interactive real-time collaboration has been used to reduce time-to-market for new products and services.
Choose Telepresence over Skype:
Telepresence is designed for meetings and meeting spaces. Telepresence solutions solve all the problems you would otherwise experience with PC-based video conferencing by including better cameras, audio, display, and security.
Let's share the important points:
Telepresence has Better Cameras:

Webcams were made for close range image capture, mounted on monitors or in laptops. The wide angles necessary for close-up photography distort the curves in your natural face and also make it impossible to put a group in the frame without them looking like bugs. Telepresence solutions use cameras that are perfected to make meetings effective for one or many participants. The robotic gearbox lets you pan and tilt around the room to focus on important items.

Telepresence solutions have Better Audio:

Most microphones designed for PC-based video conferencing solutions are meant for close-range speaking by individual users. They use computer speakers which cause echo and feedback concerns in larger rooms. Telepresence solutions by Enterprise US using products from Cisco, R*HUB and VU Telepresence solve these problems.
Telepresence technology can equip your boardroom with an area microphone picking up clear speech from a 6 foot radius or 12 foot diameter. Echo-cancellation is built in, which becomes incredibly important when multiple users join a conference. Best of all Telepresence microphones cover the full range of our vocal spectrum. You will sound like you.

Larger Displays:

You can use any computer monitor that you choose for most PC-based video web conferencing solutions. The same is true with Telepresence. The difference is in the video compression algorithms. Compression technology is the secret sauce behind enlarging a video signal onto an HD display monitor with crystal-clear quality. Companies can't have group video meetings on a 17-inch laptop screen. In the meeting room you need a large display or immersive display array. So spring for that new 65-inch Super TV! Telepresence will take advantage of every pixel.

Security and Connectivity:

Every office building has different network bandwidth. Telepresence solutions will give you a great video picture even at 450kbps. PC-based video conferencing services leave you wide-open to cyber attacks and video interception. Many businesses hesitate to approach such services on this fear alone. We understand that. That's why we sell products with encryption into all of our video data transfers. Enterprise US Telepresence solutions provide secure data transfers for your video conferences.

Skype uses its own proprietary method of communication there have been some attempts to create video gateways from video conference rooms to Skype clients but all have had limited success.Telepresence is quality video conference systems that come at a price; a price for very good reason. Telepresence can be easily integrated with other providers to meeting rooms around the world.You can see that there are clearly significant differences between PC Based video in a meeting room and a traditional video conference room. These factors added together really highlights why you should never consider using anything but a Telepresence solution in a meeting room environment.Our telepresence partners are:

Cisco/Tandberg
R*HUB
VU Telepresence
Yealink
Some Video Conference Equipment
VC400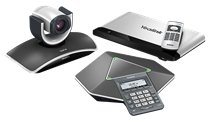 Yealink VC400 is the latest innovative 1080P full-HD video conferencing system designed specifically for head office use. This system supports a H.323 and SIP dual protocol to ensure good compatibility with mainstream video conferencing systems. VC400 is equipped with an 18X optical PTZ camera so that users can enjoy 4-site 1080P full-HD video conferencing, as well as 1080P contents sharing. VC400 also supports dual displays, USB recording and playback. With an extraordinary video and audio experience, VC400 is definitely the best choice for your business video conferencing.
VP530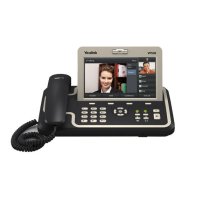 The Yealink VP530 is a further innovation of the advanced, executive-level IP Video Phone. With integrated audio, video and applications, the VP530 is a very powerful business video phone. Its large display and easy use make it an ideal all-in-one tool for today's busy business leaders, regardless of where they happen to be. With excellent performance and rich business features, the VP530 offers an all-round, face-to-face network experience that allows users to interact and communicate like never before. Features include:
Integrated intelligent features that make it exceptionally easy to operate
Maximum productivity for managers and executives
Efficient person-to-person contact by video call or video conferencing, leading to lower travel costs and faster decision-making
Easy to install and simple to administer, upgrade and maintain
A reduced carbon footprint with energy-saving PoE for a greener world
Highly customizable and expandable service features