Process Automation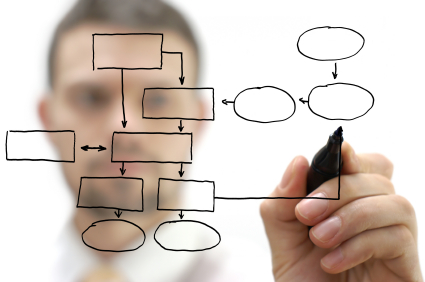 BPA: Business Process Automation
Business process automation, or BPA, can be defined as the process a business uses to contain costs for the organization's transactions. It consists of integrating applications, restructuring labor resources, and using business process automation software applications throughout the organization. At eUS we have vast experience in converging your communications system(s) with your back office processes.
There are two main techniques for delivering automation of a business process.
Extension of existing IT systems:
As most IT systems are inherently process automation engines in themselves, a valid option is to extend their functionality to enable the desired automation. This can be done by creating customized data linkages between the business application systems which eliminates duplication of effort, saves time and improves accuracy. This approach means that the business process automation can be tailored specifically to the exact environment of the organization. On the down-side, it can be time-consuming to find the necessary skills either internally or in the marketplace.
Purchase of a specialist BPA tool:
eUS partners bring toolsets to your enterprise which are purpose-built for the function of BPA. These solutions tend to focus on different industry sectors but their underlying approach tends to be similar in that they will provide the shortest route to automation of the business process. This is accomplished by exploiting the user interface layer rather than going deeply into the application code or databases sitting behind them. The main advantage of these process automation tool-sets is therefore their speed of deployment.
We work with our customers to enhance their productivity through the use of customized automation and workflow tools. We use these automation tools to integrate the systems and business processes into one converged and coherent system that increases productivity and reduces costs. We use a consultative model to do business process engineering which results in a converged automation system that uniquely fits your needs and objectives. We work with just about any existing back office system for accounting, manufacturing, POS, HR etc. You might want to invest in a new sleeker back office system to support your needs. Either way let eUS help you to explore the possibilities of converging your automation systems and processes.
On the horizon: The Internet of Things IoT
Please keep an eye here to see what is coming in the world of IoT. We will be adding information on how IoT will change and shape the various aspects of the processes and digital infrastructure of companies and organizations of all sizes.
The Internet of Things will touch every aspect of business and commerce. It will effect business processes like customer relationships and support systems by providing more data and interaction possibilities. The ability to track movement of items and people in real-time will offer visibility of data that has been heretofore not easily captured.
What IoT might look like…
This new visibility of data will allow people to monitor and test new procedures and measure effectiveness of procedures. This can be used to develop and improve new business processes that can save resources, time and even lives.  For example, if a biometric bracelet could monitor a worker's heart rate, breathing etc. and alert them and others if an emergency is indicated or occurs. It could alert them if a danger is present from any nearby or moving equipment.
Enterprise US has our eye on this powerful technology and is ready to help you employ the currently available early stage elements of this oncoming technology era. Contact us by form, phone, Skype, Email or FAX to talk about this!